Dr. Riley's "Ask the Doctor" Forum
Dr. David Riley, a renowned Northeast Ohio neurologist, will facilitate a doctor forum every month at InMotion that covers movement disorders – his area of expertise. He will present or host other visiting movement disorder specialists to present information and findings from their ongoing work. Dr. Riley's "Ask the Doctor" Forum is held on the first Thursday of each month at 2:00 p.m.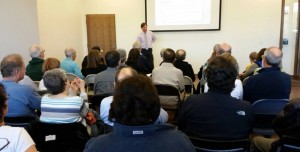 Dr. Riley will also conduct a quarterly lecture series addressing the basics of Parkinson's disease, to educate, inform and uplift newly diagnosed patients.
Sign up for our e-newsletter to learn about upcoming movement disorder specialist "Ask the Doctor" Forums.
"What's New in Movement Disorders" presented by Dr. David Riley
The annual report highlights from the Movement Disorder Society meeting will be discussed.
Thursday, July 6 at 2:00 pm
Click here to register for this class
Michael J Fox Webinars
Join Dr. Karen Jaffe the first Wednesday of every month at 1:30 pm to view and discuss the monthly Michael J. Fox Foundation webinar series.
MJ Fox Webinar: "Challenges / Treatments of Young-Onset PD" facilitated by Dr. Karen Jaffe
People diagnosed with PD before age 50 face unique challenges around work/family. Patient and clinician panelists will discuss the experience of, and care for, YOPD.
Wednesday, July 5 at 1:30 pm
Upcoming Classes & Programs:
InMotion utilizes MindBody software for scheduling. Through MindBody, you can quickly and easily find dates, times and details on upcoming classes and events; as well as register for classes.

Click here to view a current list of upcoming classes and programs in MindBody. Utilize the tabs across the top of the page (Weekly Classes; Forums & Events; Support Groups) to view the programs of interest to you.
Class sizes are limited, so it is important that you register in advance for classes. Registering also provides us with your contact information should we need to notify you of any changes in scheduling.
How to register:
• Via MindBody online
• Via the MindBody smartphone app
• Sign up in person at the front desk
• Call us at 216-342-4417
• Email us at [email protected]

(Note: The first time you click to register for a class or event on MindBody, you will be asked to create a personal login. Be sure to save your login and password – you'll be using it again!)
To view a printable version of the monthly class schedule, click here.